2023 OurEcho Challenge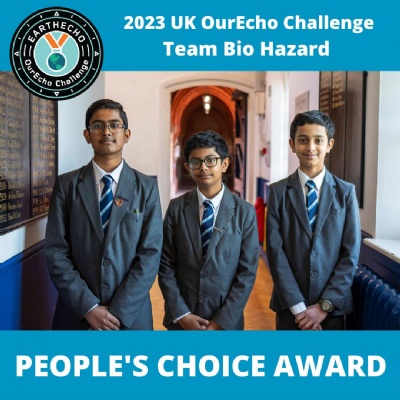 Youth leaders working towards positive change
The OurEcho Challenge is an international STEM competition that empowers students to investigate biodiversity in their communities. Students are asked to identify threats to local ecosystems and then consider solutions to help preserve, protect or repair natural resources.
Three Year 8 students came together to share inspiration, passion and drive to create positive change by forming 'Team Bio Hazard'. Maulik S (8L), Abhiram G (8L) and Naivedya P (8L) worked together on their project which focussed on recycling food waste while reducing CO2 emissions through the design of a waste disposal vehicle that transforms biomass into biogas.
During February 2023, the team entered the OurEcho International Competition and made it through as UK finalists, going on to secure second place and securing a cash grant of £2,500 which they will use to take their project further and make it into a reality.
Maulik S (8L) shared, "We are proud to have represented Reading School and Berkshire in this competition, and with the financial support we have received, we aspire to spread the impact of our project beyond our school and into the wider community."
Congratulations to Maulik S (8L), Abhiram G (8L) and Naivedya P (8L), who make up Team Bio Hazard and who have demonstrated desire and passion in wanting to make a positive difference.
#WeAreRedingensians #ReadingWay #ReadingSchoolCommunity #sustainability #earthecho #ourecho #youthleadership #youthleaders #environment #environmentalprotection #environmentaleducation #changemakers