Reading School's Class of 2023 celebrates a strong set of results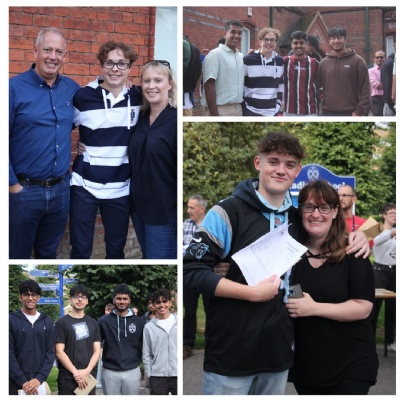 Reading School is delighted to announce a strong set of A-level results for the Class of 2023, marking a triumphant return to pre-pandemic performance levels. The exceptional achievements of our students have paved their paths to prestigious universities and exciting career opportunities.
In the face of unprecedented challenges posed by the COVID-19 pandemic, this cohort of students has displayed remarkable resilience and determination. Their academic journey was marked by the disruption caused by the pandemic, including lock-downs, remote learning, and health-related interruptions. Yet, they persevered, adapted, and emerged stronger than ever.
We take immense pride in the accomplishments of those students who were most affected by the disruptions. Thanks to the unwavering support of our Student Support team, students with Special Educational Needs and Disabilities achieved an impressive 15 A* and A grades, enabling them to pursue their ambitious goals at renowned universities. Our commitment to social mobility ensured that students from disadvantaged backgrounds secured spots at prestigious institutions and we graciously thank our supporters of our Future Stories programme.
136 students have successfully secured placements at their preferred destinations, including 37 different top-ranking universities and apprenticeships. We celebrate the diversity of courses and future pathways that our School's curriculum has made accessible. These accomplishments are a testament to the dedication of our students, teachers and the effectiveness of our educational programs, together with support from our alumni and parent community.
Notable success stories include Daniel T, who achieved four A*s and will be embarking on a journey to study Spanish and Linguistics at the University of Edinburgh. Jonny Ritchie, with two A*s and an A, is set to pursue Architecture at the University of Liverpool, while Jacob Rogers' three A's have earned him a place to study Mathematics and Music Technology at the same institution. The surge in popularity of Philosophy is evident as five students secured spots in related subjects, including School Captain, Daniyal V who secured four A*s to read PPE at the University of Oxford, being one of 23 students gaining places on the most competitive courses at Oxford or Cambridge University.
Moreover, Shivansh P stands as one of the nation's highest performers in the OCR Economics June 2023 examination. His outstanding achievement of four A*s has earned him a place to study Economics at the University of Cambridge.
In addition, Ryan L received offers from Harvard University and the University of Oxford and gained four A*s and will be reading Physics and Philosophy at Oxford. As well as currently taking part in the 16th International Olympiad on Astronomy and Astrophysics 2023 in Poland as a part of the UK team. We wish Ryan and the UK team the very best of luck. #ioaa2023
Our exceptional teaching staff played a pivotal role in guiding our students through the challenges of recent years, resulting in strong results across all subjects. Noteworthy achievements include 76% of students achieving A*-A in Computer Science, 78% achieving A*-A in Economics and 47% of all Mathematics candidates being awarded A* grades.
The success of our boarding community is reflected in the exceptional results achieved by students like Alex B-M, Sami H, and Oluyimika O. Their journey, beginning in Year 7, culminated in stellar outcomes such as Accounting and Finance at the University of Cardiff, Computer Science at City University of London, and Computer Science at the University of Bath, respectively. Newcomers to our boarding houses, like Jacky C, have also thrived under the expert tutelage of the boarding staff, achieving a remarkable three A*s and 2 As and he will be studying Electrical and Electronic Engineering at the University of Southampton.
Mr A M Robson (Headmaster) said:
"The journey of these last few years brought challenges to educators, learners, and parents alike and the strong set of exam results achieved reflect the resilience our students have shown in the face of challenges. Beyond academics, we're focused on shaping well-rounded individuals who flourish through experiences and co-curricular activities. We encourage the development of character, nurturing responsible citizens who contribute positively to society. Congratulations to the Class of 2023 who have secured an impressive range of places at UK, US and international universities and esteemed apprenticeships.

I would like to thank Reading School staff for their continuous commitment and dedication, our students for their perseverance, parents for their trust and alumni for their kind support and our Governing Body, led by Mr. Robert Kenwrick, for strategic guidance."
Mr A Lloyd, Head of Sixth Form and Boarding Housemaster added:
"Our students' resilience and adaptability are qualities that will undoubtedly shape their future endeavours. At the heart of our educational ethos lies character development, exemplified by our recent national accolade for character education. It's this personal growth, underpinning academic achievement, that truly fills us with pride. The unwavering dedication of our Sixth Form team, led by Mr. D Whitehorn, Miss A Stratford, Mrs. H Majorossy-Young and Mr. O Thomas, alongside the support of Miss J Pickering, our Sixth Form tutors, the Exams Team and Society Office, has been instrumental in making this year's successes possible.

To our exceptional students, we offer our best wishes as you set forth into the next chapters of your journey. Remember, we stand as a steadfast support system, ready to aid and eager to hear of your ventures beyond Reading School. So please keep in touch."
Key A Level Result Highlights:
171 students sitting exams
90% achieved A*-B grades overall
34 % achieved A*
38 % achieved A
25 % entries B to C
100% entries A* to U
Reading School congratulates each student on their exceptional achievements and extends gratitude to the entire school community, including dedicated teaching and support staff, for their unwavering commitment to fostering academic excellence and personal growth.
Reading School is a leading institution committed to providing a transformative and holistic education. With a focus on academic excellence, personal development, and social responsibility, the school empowers students to excel in their pursuits and contribute positively to society.
We wish the Class of 2023 well for their future.
To remain connected to Reading School and our Old Redingensians community whose network and wisdom may be of profound benefit in the future, please join Reading School LinkedIn and connect with a world of opportunities through people and knowledge by joining the Reading School Alumni Society.
We take great pride in our students' achievements and recognise that some cultures wish to donate to charities as a part of their celebrations. Reading School has charitable status, and we would welcome any donations to supporting future education at Reading School. You can make a donation by clicking here.
For photos from this morning please click: A Level Results Day 2023 Photo Gallery.
#Alevelresultsday2023 #AlevelResults #ReadingSchoolFamily #OldRedingensians #RSKeepInTouch #ReadingWay #WeAreRedingensians
Reading School, Erleigh Road, Reading, Berkshire, RG1 5LW