Outstanding A Level Results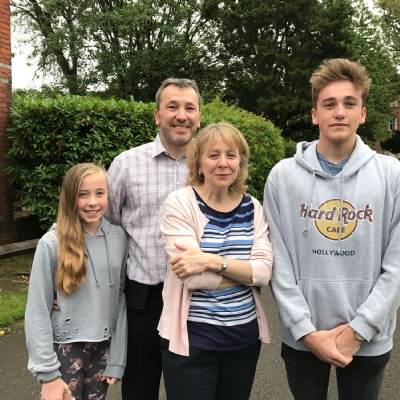 Sixth Form Students achieve outstanding results
Students at Reading School should be rightly proud of the progress they have made as a consequence of their hard work over the last two years culminating in 93.1% A*-B grades, 75.72% A*-A grades and a record 38.2% A* grades at A Level.
History and Geography students gained 100% A*-B grades along with students of French, German and Latin. In addition, 62.7% of Further Mathematicians gained the highest grade possible, A* and 85.2% of Mathematicians were awarded A*-A grades.
Headmaster of Reading School, Ashley Robson, stated 'We celebrate individual success today which is due to a combination of resilience and hard work from the cohort of students and also sustained excellence in terms of the quality of teaching. In addition, I would like to recognise the support of parents and carers along with the challenge of the governing body which has ensured that we work together to deliver our vision of academic excellence'.
As a state school operating on the premise of offering able boys from any social or ethnic background the opportunity to excel academically. Reading School is especially proud of its track record in supporting students eligible for the pupil premium to successfully gain places at Oxbridge and Russell Group Universities.
Overall, 62.3% of Year 13 students gained at least 3 A grades and 75.3% gained at least AAB.
Whilst on an individual basis, some of the successes include School Captain, Sam Miller, gaining 4 A* grades in German, History, Biology and English Literature. Sam is going to Oxford University to study English at Wadham College in October.
In addition, William Chadwick achieved a superb 5 A* grades in Physics, Mathematics, Biology and Chemistry and will study at Cambridge University in the Autumn. Tadeusz Ciecierski-Holmes is celebrating 5 A*-A grades after undertaking extensive charity work in Thailand over the summer and leading the School Charity Committee. Seth Peiris, Head of Laud House, has gained a place at Kings College London to study medicine.
Whilst Abhishek Adavikolanu is looking forward to studying Economics and Management at Pembroke College, Oxford University following the award of 4 A* grades in Economics, Geography, Mathematics and Further Mathematics. Also, Ryan Yao-Smith is eagerly anticipating reading English at Durham University following a string of outstanding results.
Deputy Headmaster and Head of Sixth Form, Chris Evans, stated that 'Our boys have worked very hard and deserve their success, we wish them well for the next step in their lives'.