Award Winning Author Talks to YR7 and YR8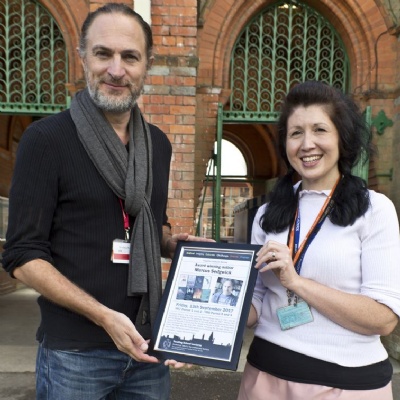 Award Winning Author Talks to YR7 and YR8
Award winning author Marcus Sedgwick delivered a lively talk to all Year 7 and 8 about life as an author and the inspiration behind some of his books. Marcus canvassed opinion on why being a writer might not be a good career and then revealed why he loved being an author. Even though he might get less than 50p for each book sold, he said he never feels like he is working because he loves writing so much.
Marcus was intrigued by the folklore surrounding vampires and carried out a lot of research into the myths surrounding them. Through his research, Marcus discovered that the only consistent vampire myth seemed to be garlic, which would not make a very scary book. He did however come across an old tale and an old Romanian tradition of a "corpse wedding" and this inspired his novel, My Swordhand is Singing. Marcus travelled all the way to Mexico for the research behind his novel Saint Death , meeting a drug lord and nearly travelling into enemy territory.
We have been very lucky to hear Marcus talk as he only visits the UK a few times a year.
The talk was followed by a book sale and signing, with long queues of boys keen to meet the author and ask him questions.