Sixth Form Boarding
We are eager to welcome new students to the school in Year 12. In a typical year, new students make up around half of our cohort and we very much appreciate the vibrancy and perspective that is added by these external candidates.
Weekly boarding in the Sixth Form provides our students with the perfect opportunity to gain independence, self-motivation and academic discipline, skills which they can build upon and then utilise to ensure a seamless transition into university life.
Boarders are consistently the best young leaders and team players in the school. They are amongst those who participate most in sports, music and enrichment activities, and they achieve outstanding academic results.
Recent leavers went on to study Medicine at Kings College, Chemical Engineering at Imperial, Geography with Economics at LSE.
What you can expect:
Excellent academic standards
In August 2023, 90.1% of all A-level entries were awarded A*- B grades, with over 25% of candidates achieving at least 3 A* grades.
Excellent standards of pastoral care
Student welfare is of paramount importance to us and we strive to ensure that all students leave Reading School as happy, content and well-rounded young men, fully prepared for their next steps into the world.
Your own room and study area within dedicated Sixth Form corridor

Sixth Form communal areas including kitchen and living room

Tailored support from a team of boarding tutors who are all academic staff at the school

The opportunity to develop leadership skills, support community projects and contribute to boarding life

Access to a wide range of sports including local swimming pool and membership of the nearby Buzz Gym

WiFi access

The chance to develop lifelong friendships and an ideal stepping stone to university life away from home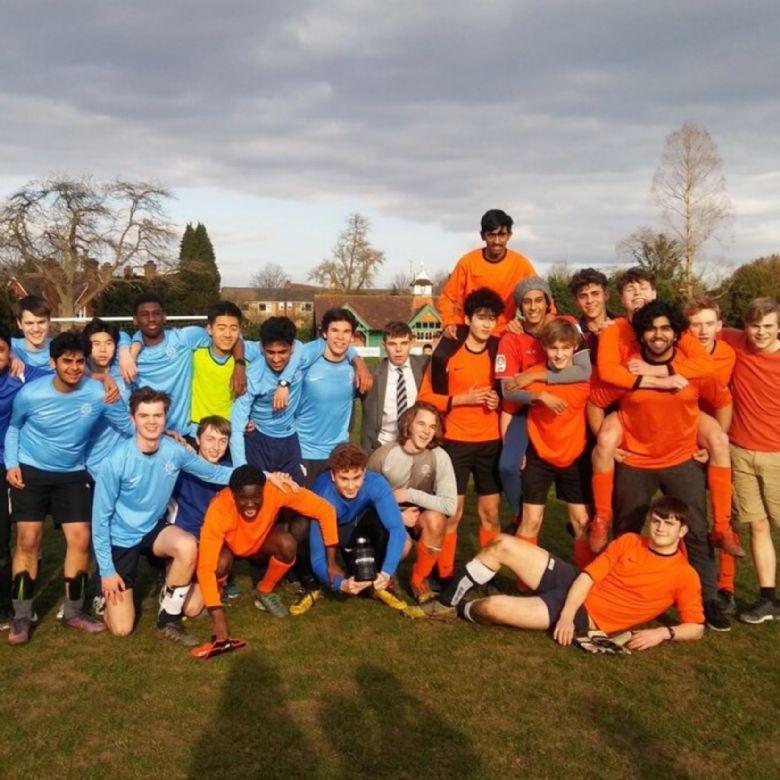 Hear from some of our Sixth Form Boarders:
I really enjoyed the boarding experience in the Sixth Form at Reading School. The year group sizes being fairly small, you get to know your friends like brothers, and there is a real sense of community where all the year groups mix. The boarding team are amazing as well and really care about making the experience as good as it can be.
Cian, Year 13, East Wing
Boarding really prepares you for university by giving you the opportunity to be independent, responsible and resilient. We are given more responsibility, such as organising house events but are also given more freedom to do things like go to town or to the gym. I believe that boarding has really developed me as person, especially my leadership skills, and has prepared me for the future.
Albert, Year 13, East Wing
I have been in boarding since the beginning of Year 8, however, I feel during my time as a Sixth Former my independence has developed more than in any other year.
Luca, Year 13, South House
Boarding has not only supported me throughout my current A-level studies but also given me excellent preparation for my future at university. Being surrounded by my peers as well as teachers covering a wide range of subjects has provided me with a network of support that I've come to realise is a unique advantage boarders have. Boarding has made my Sixth Form experience less stressful and more enjoyable.
Andrew, Year 13 East Wing
Boarding has encouraged me to take control of my school life and manage myself to achieve what I want from my time here. Yes, we may have to be at meals at certain times and in our rooms during curfew but apart from that we can choose what to do. From going into town to joining one of the many activities the boarding house offers or just simply doing work, you really have a lot of freedom, especially as a Sixth Former.
James, Year 13 East Wing
Being a boarder has given me advantages that day school students don't have. As well as constantly being around my friends who I can study with, the fact that there are teachers who are willing to assist me with my academic studies is especially beneficial. In addition, the time saved from not having to travel to and from school every day means that I not only have more time to work, but also to socialise and pursue extracurricular activities like rugby. Boarding in the Sixth Form has aided my independent study, and has better prepared me for university and later life. Learning to live with others has led to me becoming a more cooperative and social individual, and has led to steadfast friendships. Will, Year 13 East Wing
I joined boarding in Year 9 and over the last few years I believe I have become more independent and confident as well as being able to find solutions for any problems I encounter on my own instead of looking for external help.
Kim, Year 12 South House